When you think of construction sites, one color that immediately comes to mind is orange. From safety vests to traffic cones, orange is prominently featured in various safety measures. One of the most notable uses of orange in construction is in safety fencing. The choice of orange as the color for construction safety fencing is not arbitrary; it serves a crucial purpose in ensuring the well-being of workers and the general public.
High Visibility
One of the primary reasons for using orange as the color for construction
safety fence
is its high visibility. Orange is a bright and vibrant color that stands out against most backgrounds, making it easy to spot even from a distance. This visibility is essential in construction sites, where there are often hazards and potential dangers. By using orange safety fencing, construction companies can enhance the visibility of restricted areas, hazardous zones, and construction equipment, alerting people to potential dangers and keeping them away from harm.
Psychological Impact
Color psychology plays a significant role in how we perceive and react to our surroundings. Orange is a color that is associated with caution, warning, and attention. Its bold and energetic nature captures our attention and prompts us to be more vigilant. When used in safety fencing, orange acts as a psychological cue, reminding individuals to be cautious and aware of their surroundings. It serves as a visual signal that there are potential risks and hazards in the area, encouraging people to exercise caution and stay away from restricted zones.
Universal Recognition
Another reason why orange is preferred for construction safety fencing is its universal recognition as a color of caution and danger. Unlike other colors that may have different cultural or regional associations, orange is widely recognized around the world as a warning color. This consistency in recognition makes orange an ideal choice for safety fencing in construction sites, where people from diverse backgrounds and languages may encounter the barriers. The universal understanding of orange as a cautionary color ensures that the message of potential danger is effectively communicated to all individuals, regardless of their native language or cultural background.
Compliance with Regulations
Construction sites are subject to numerous safety regulations and standards to protect workers and the public. Many of these regulations specify the use of specific colors for safety equipment and signage, including safety fencing. In several countries, including the United States, orange is the designated color for construction safety fencing as mandated by regulatory bodies such as the Occupational Safety and Health Administration (OSHA). By adhering to these regulations and using the recommended color, construction companies ensure compliance and demonstrate their commitment to safety.
Easy Differentiation
In construction sites where multiple safety measures and equipment are in place, it is crucial to have clear differentiation between various safety elements. By using orange as the color for safety fencing, it becomes easier to distinguish it from other safety features such as yellow caution tape or blue signage. This clear differentiation helps individuals quickly identify the purpose and boundaries of the safety fencing, preventing any confusion or potential accidents.
In conclusion, the choice of orange as the color for construction safety fencing is based on its high visibility, psychological impact, universal recognition, compliance with regulations, and easy differentiation from other safety features. By using orange safety fencing, construction companies prioritize the well-being of workers and the public by effectively communicating potential dangers and keeping individuals away from restricted areas. The color orange serves as a powerful tool in enhancing safety measures on construction sites, contributing to a safer and more secure working environment.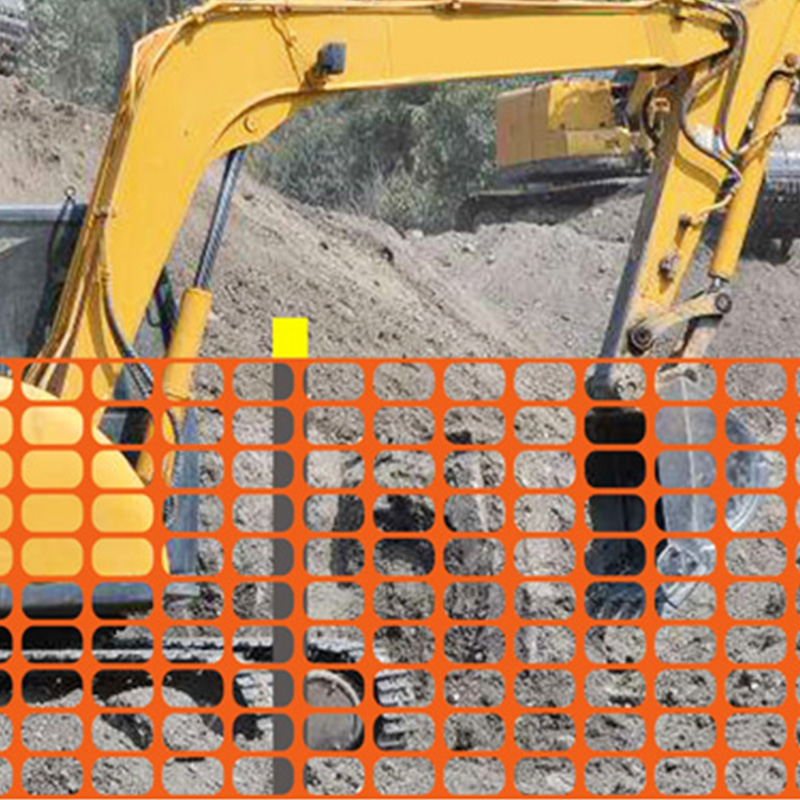 Safety fences are also known as warning barriers and snow fences. The main color is orange, designed for warning. The main grid is rectangular and oval. Widths vary from 1m to 1.8m.
It uses HDPE as the main raw material, adds UV, and is made by plasticizing.
With our extensive experience in the field of extruded wire mesh, we divide safety fences into SR series and BR series to satisfy discerning customers and complete our product specification range.